SMARTBAND UNISEX PACIFIC 23-3 - TERMOMETR, CIŚNIENIOMIERZ (sy019c)
Zegarki firmy Pacific silnie nawiązują oraz łączą swoim wzornictwem ideę piękna, funkcjonalności oraz trwałości wykonania. W zależności od wybranej kolekcji skupiają się na elegancji i klasyce wykonania, najnowszych inspirujących trendach czy nawiązaniu do natury.
Każdą z tych kolekcji łączy jednak doskonałe wykonanie zegarków z najwyższej jakości materiałów, dbałość o detale, co zapewnia im niezwykłą trwałość oraz ponadczasowość.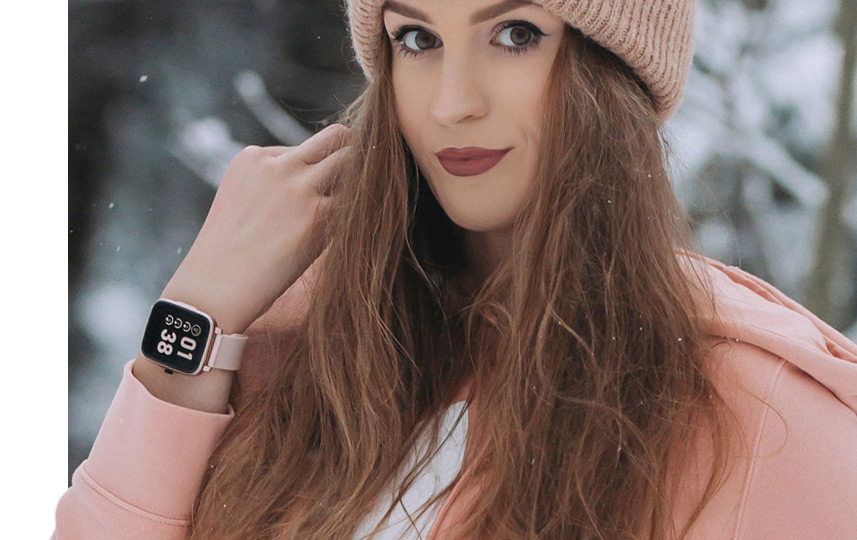 OPIS
Smartband jest kompatybilny z Android 4.2 i nowszy, iOS 8.0 i nowszy
Bateria: 80 mAh
Stopień ochrony przed pyłem i wodą: IP67
Ładowanie za pomocą kabla USB
Sparowanie z aplikacją daje dostęp do dodatkowych funkcji i możliwości synchronizacji danych.
Dedykowana aplikacja: Lefun Health

Menu opaski w języku angielskim, aplikacja w języku polskim.
KROKOMIERZ
Krokomierz pozwala na kontrolę codziennej aktywności poprzez precyzyjny odczyt liczby wykonywanych w ciągu dnia kroków za pośrednictwem technologii, której osią jest współpraca małego wahadła i mikroprocesora. Dzięki tej funkcji możemy w prosty sposób sprawdzić czy w naszym dniu nie powinno być więcej czasu przeznaczonego na ruch.

TRYBY SPORTOWE
Inteligentny zegarek jest wyposażony w wiele zdefiniowanych trybów sportowych, takich jak jazda na rowerze, pływanie, bieganie czy joga, które można wybrać w trakcie uprawiania danej dyscypliny. W trakcie aktywności sportowej zegarek pobiera i analizuje te dane płynące z naszego ciała, które najbardziej miarodajne i przydatne podczas treningu. Na tej podstawie tworzy się baza związania z monitorowaniem kondycji użytkownika oraz jego postępami podczas ćwiczeń.
PULSOMETR
Pulsometr służy do pomiaru tętna za pośrednictwem czujników, które rejestrują przepływ krwi w naczyniach krwionośnych. Monitorowanie pulsu jest istotną funkcją zegarka dla osób aktywnych fizycznie, które chcą osiągać lepsze wyniki, jak i dla tych którzy kontrolują swoje tętno ze względów zdrowotnych.
TERMOMETR
Zegarek z termometrem to niezbędny element ekwipunku dla miłośników aktywności na świeżym powietrzu. W szczególności w trakcie górskich wypraw, gdzie gwałtowne spadki temperatury zazwyczaj oznaczają załamanie pogody. Czasomierz z termometrem nie pobiera informacji za pośrednictwem baz pogodowych, lecz robi to prosto z otoczenia przez co pomiar jest bardziej precyzyjny.
NORMA IP67
Certyfikat International Protection IP67 oznacza, iż zegarek jest on w pełni pyłoszczelny (co odpowiada cyfrze "6") oraz posiada klasę wodoszczelności, która pozwala na zanurzenie czasomierza w płytkiej wodzie, nie przekraczając przy tym 30 minut (cyfra "7" w certyfikacie). Do rozszczelnienia obudowy zegarka może doprowadzić nurkowanie na głębokość poniżej 1 metra oraz pływanie dłuższe niż pół godziny.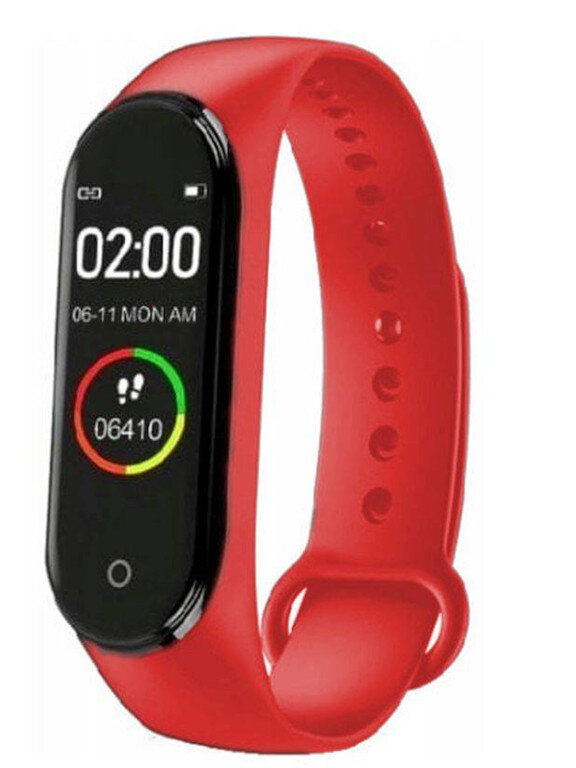 WYMIARY:
maksymalny obwód - 210 mm
szerokość paska - 16 mm
szerokość koperty - 18 mm
wysokość koperty - 46 mm
grubość koperty - 12 mm
KOLORYSTYKA:
koperta czarna
pasek czerwony
FUNKCJE
2 tarcze do wyboru
monitor snu
tryby sportowe: bieganie, jazda na rowerze, pływanie, badminton
krokomierz
pulsometr
ciśnieniomierz
termometr - pomiar temperatury ciała
licznik kalorii
powiadomienia o połączeniach
przypomnienie o piciu wody
przypomnienie o trybie siedzącym
W komplecie oryginalne pudełko, ładowarka i instrukcja w języku polskim
Black
RedMore
Distance meter / Calories burnt counter
Notifications - SMS, WhatsApp, FB etc.
Powiadomienia o połączeniach
Wrist movement activation