ZEGAREK MĘSKI DIESEL DZ7333 - MR. DADDY (zx100b)

Diesel to światowa marka modowa stworzona w 1978 roku przez włoskiego projektanta mody Renzo Rosso. Diesel określany jest dzisiaj mianem marki lifestylowej.
Modele marki Diesel przykuwają uwagę użytkowników unikatowym, odważnym designem, z często mocno wyeksponowanymi cechami, jak np. duże, masywne koperty w linii Big Daddy, energetyczne kolory czy trzy, a nawet cztery mechanizmy w jednym zegarku.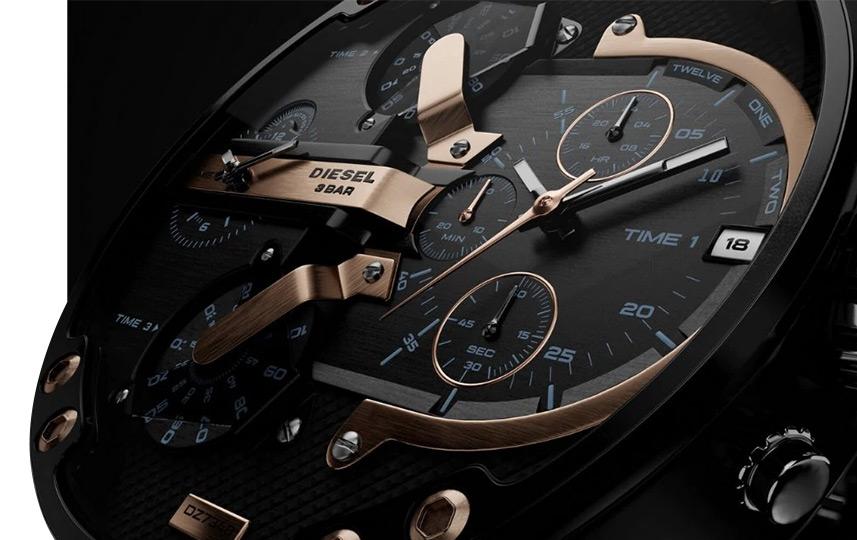 CHRONOGRAF
Chronograf w czasomierzu to po prostu analogowy, zegarkowy stoper. Po naciśnięciu jednego lub dwóch przycisków uruchamiających, zegarek z chronografem zaczyna odmierzać czas w postaci sekund, ich części dziesiętnych bądź setnych czy też dłuższych jednostek czasu takich jak godziny. Chronograf podnosi wizualną atrakcyjność zegarka.
BRANSOLETA ZE STALI SZLACHETNEJ
Bransolety zegarków ze stali szlachetnej, zwanej także chirurgiczną, są jednymi z najbardziej wytrzymałych oraz eleganckich dodatków. Stal szlachetna jest stopem żelaza, chromu i niklu wraz z innymi pierwiastkami w niewielkim procencie. Bransoleta wykonana ze stali szlachetnej jest nierdzewna, nie śniedzieje, lśni mimo upływu czasu. Jest wysoce odporna na uszkodzenia mechanicznie, które nie łamią bransolety, ani jej nie odkształcają. Oznaczana jest symbolem 316L. Mimo tego, iż zawiera nikiel, ma właściwości antyalergiczne.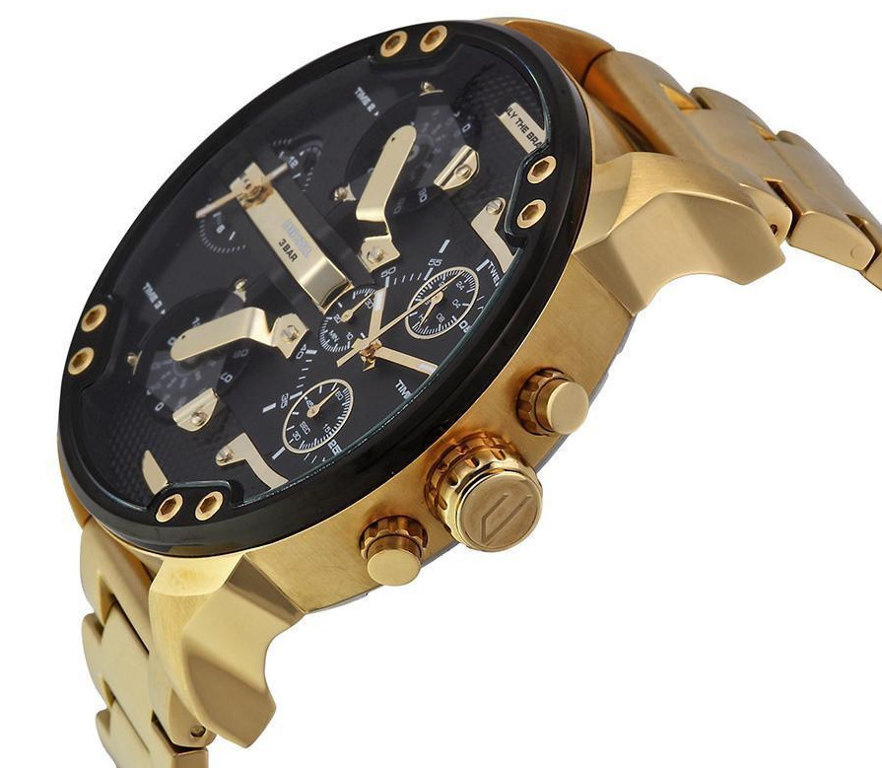 WYMIARY:
koperta: 63 x 67 x 13mm
średnica tarczy: 51mm
szerokość bransolety: 28/24mm
maksymalny obwód wewnętrzny: ok. 20,5cm
KOLORYSTYKA:
tarcza: czarna
indeks: złoty
bransoleta: złota
koperta: złota / czarny ring
FUNKCJE
Datownik - dzień miesiąca
Cztery niezależne mechanizmy
Czas w innych strefach - 4 możliwe do ustawienia
Chronograf
W komplecie eleganckie markowe pudełko prezentowe - idealne na prezent
Gold
Black

Długość towaru w centymetrach
Szerokość towaru w centymetrach
Wysokość towaru w centymetrach